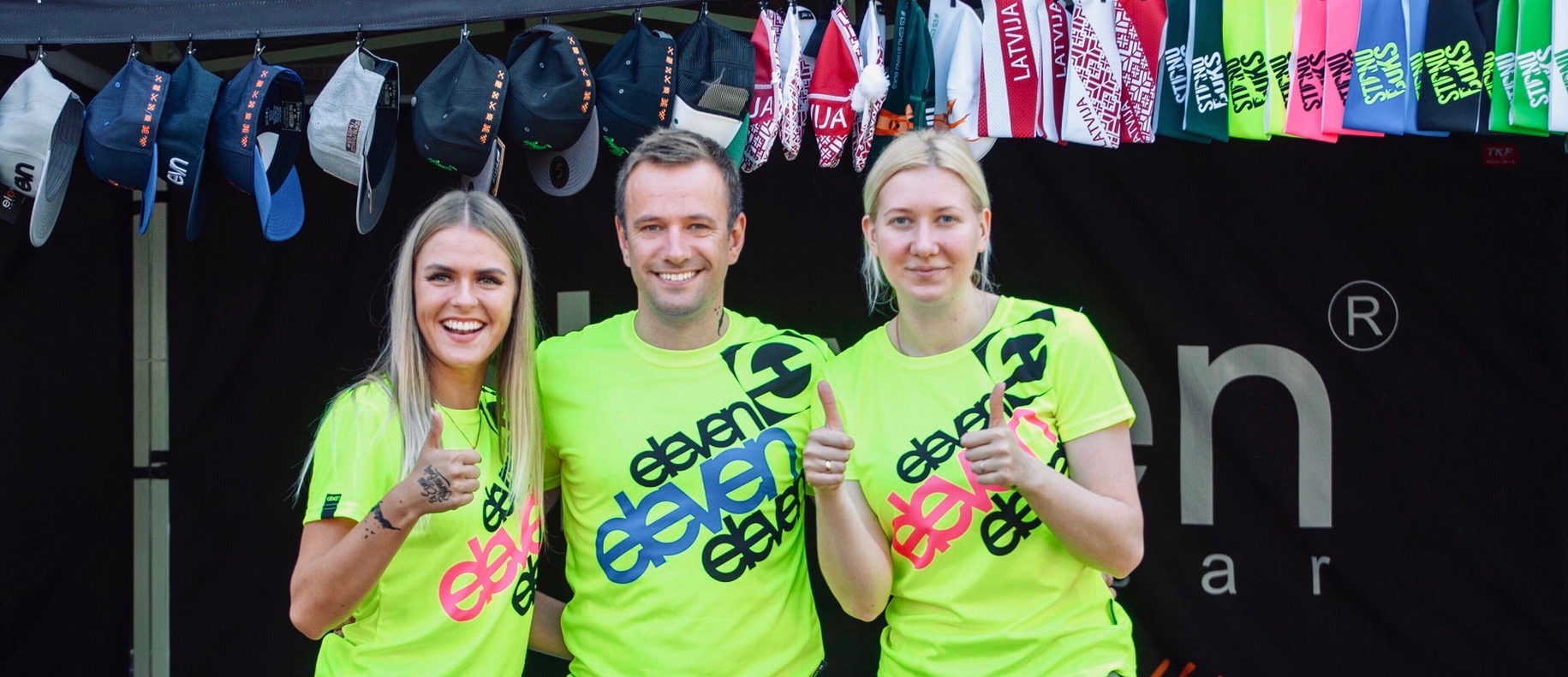 Eleven Sportswear Latvia is a sports clothing and sports accessories brand with headquarters in Jablonec nad Nisou, Czechia. We have been visible in The Baltics since 2017 and operating in Latvia. High quality, bright colors, modern design and positive energy - these are the values that characterize Eleven. Everyone can see for themselves that these values are transferred into Eleven products: compression socks, sports beanies, headbands, sports gloves, thermo socks, sports t-shirts, cycling apparel, long and short sports socks. The list goes on.
Are we only 100% online? No, Eleven Sportswear Latvia show-room is located in Riga (Dzelzavas iela 120G, Evelostore) where everyone can see and touch our products in real life. If Riga is too far, we are also participating in running, cycling and skiing events around the Baltics, in all four seasons. Events such as Stirnu Buks (trail running), Skrien Latvija (road running), Vivus.lv MTB marathon (mountain biking). In 2020, you will also see us in selected events in Estonia. On the front page of our website you can always see the next event on our calendar. Of course, we also deliver Eleven products in Latvia, Estonia, Lithuania and whole Europe, with free delivery for orders above 50 EUR.
Do you like our designs and would like to have your own? No problem! We make custom design sports clothing and accessories for individual athletes, teams and organizations. Quality and design freedom guaranteed. Our clients are especially familiar with headbands and various types of beanies (thin, warm, knitted). We are proud of our partnership with the Stirnu Buks trail running series, as this collaboration has resulted in the official merchandise line for the 2019 and 2020 seasons. We are not stopping in 2021, that's for sure! Custom sports clothing and accessories in unique designs have been created also for such clients as Sigulda, Salaspils and Valmiera city councils, Latvian Basketball federation, Evelo Team and Riga Ironman Team, and many others.

Why Eleven? The story began with our founder's favourite baseball shirt and its number 11. With more than 15 years of experience, Eleven has obtained invaluable experience that it communicated through its sports products and their unique characteristics. Eleven products are proudly designed & manufactured in Jablonec nad Nisou, near Liberec. Sports accessories for various types of sports - cycling, running, athletics, triathlon, cross country skiing, yoga, fitness, hiking, active lifestyle and more. High quality manufacturing technologies, innovation and top materials - it's all about the Eleven brand.

SUBLIMATION PRINTING method is done with Japanese printers Mimaki, Italian colours J-Teckna and Swiss paper Transjet with FSC certification. With such method colours transform into gas with the help of temperature and pressure. It results into perfect colour transfer into the material's fibre structure, as demonstrated by our compression socks. Therefore colours are strong, long-lasting, with great durability.
HIGH QUALITY FABRICS are tested and chosen in collaboration with Italian brands Plastotex, Carvico, M.I.T.I, french ESF and others. Products and materials are accurately tested before joining the company's portfolio and moving to the production process.
SEWING processes, material cutting, further editing and sorting is done by the Eleven Sportswear professional team of employees, who use CAD software. Skilled seamstresses further create products and samples within Eleven Sportswear workshop, located in Jablonec headquarters. To secure the completion of growing orders and high demand, the company established several workshops around the Czechia.
DESIGN: in order to keep our clients and partners in whole Europe satisfied and to constantly offer new exiting products, we have established our own design studio. That is the place where designs are made based on client needs preferences, as also all the processes for securing smooth manufacturing and product delivery are done properly.
QUALITY CONTROL is a key factor, and before sending out or products we test all of them and compare the production sheets with results. Before packaging each product - compression socks, cycling socks, winter beanies, headbands - is labeled with description, size and other characteristics. Further comes the visual inspection, documentation report and delivery to clients.